Angels and she-devils are the stuff of fantasy, and especially so if they are ravishingly beautiful! Leading gaming software provider World Match seems to have a winner on its hands. It comes in the form of an intriguing new slot game Angeli e Demoni25 HD. The slot was released on 12th January, 2016. As the name indicates, the game is designed specifically for the Italian market. This game is the internet version of an exciting new slot game called AWP from Baldazzi Styl Art. It has a lot of the same features. In fact, the new game is likely going to be even more popular than its predecessor.

Fan base of developer World Match
World Match has a dedicated fan following and it powers a number of popular and reliable internet based casinos. Juicy Stakes Casino, 2winbet Casino and Jetbull Casino, just to name a few. The company is known for its exciting games that feature unique themes in addition to state of the art animation. Angeli e Demoni25 HD isn't the company's first collaboration with Baldazzi Styl Art. It has previously released Night Vampire HD which is also a joint effort between the two. As a matter of fact, both companies will work together. They have a project to create and distribute a total of four online slot games. These will all be based upon titles that are extremely popular in land based casinos. There also some other games in the making, for example Il Pollaio and Golden Game. These games will be brought out in a couple of months.
Symbols and free spins
The new online slot game will have five reels and triple rows of symbols. There will be 25 pay lines for gamblers to try their luck on. The game features high quality animation that makes the screen come alive with stunning looking angels and seductive she-devils. There is also a bonus game created around the sexy devil in which players can get around 10 free spins extra. The game also has Wild and Expanding Wild symbols that take excitement to new levels entirely since they increase the players' chances of winning. Another interesting feature of the Angeli e Demoni25 HD slot game is that is gives players the opportunity to connect with others on social media without having to leave it.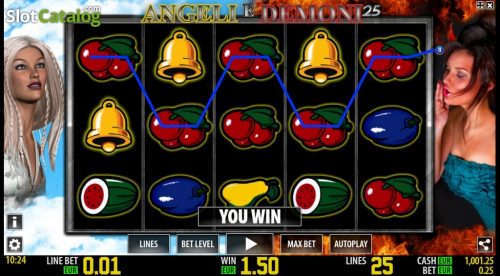 Graphics
This is a very beautiful game indeed and a lot of care has gone into creating it. It is a pleasure to experience the game thanks to its 1280×720 pixels resolution and 16:9 aspect ratio. There are plenty of keyboard shortcuts included in the game's design in order to make it as exciting and convenient to play as possible. Other features of the game include Fast Play, Autoplay, and Spin Stop.
Andrea Boratto, Executive Director of World Match, said that the company was extremely excited about its partnership with Baldazzi Styl Art because the games are proving to be exceedingly popular with customers. Going by the success of Night Vampire HD, it seems that Angeli e Demoni25 HD is headed that way as well!